July 25, 2009 | Category:
Health
|
As most of us get older, we notice our metabolism slow down. Our ability to digest calories, distribute nutrients over our body, and burn excess fat just isn't the same as when we were younger. Below are five ways to speed up your metabolism:
1. COMMIT TO BEING ACTIVE
Exercise is your bet shot to maintain your metabolic rate. Exercise gets your body's energy rolling. With regular activity, you burn fat and increase muscle development. Doctors and other experts on metabolism have seen exercise have great effects on metabolism.
Exercises to develop muscle usually include weightlifting and other resistance training. Hitting the gym to do bench presses, barbell, and dumbbell training will tear your muscles, requiring your body to use up protein to rebuild the torn muscles and in turn increase your muscle mass. Having more muscle increases your chances to metabolize at a higher rate.
However, weight training isn't the only exercise that increase the metabolism. Any regular exercise that you commit to like running, swimming, cycling, or other strenuous exercises, like tae-bo and yoga will still provide you a faster metabolism and higher caloric burning rate.
2. EAT BREAKFAST
An astounding number of people in the United States are too busy for breakfast. Many people do not realize what a negative effect it has on their bodies. Breakfast allows you to store up energy to be used throughout the day as the body is more open and tolerant to a good amount of glucose and carbohydrates during the early part of day. That's why it's called the "most important meal". Your body has to have enough energy to keep it going and the best way to get your metabolism revved up is starting early in the day. Once you perfect the habit of eating a regular and healthy breakfast, you're body is going to run smoother with the 'fuel' you're consuming. Eating a good breakfast also helps you avoid snacking on unhealthy foods before lunch.
Don't let your body go into starvation mode. It is the body's instinctive reaction to conserve energy for you, as stored energy drops lower and lower every time you skip meals frequently. A good diet should include all the healthy food recommended by the nutritionist: heaps of vegetables, a controlled portion of meat, lots of fruits, etc.
3. DRINK MORE WATER
8 glasses of water a day is a surefire way of pumping up your metabolism. Some even go as far as 50-60 ounces a day. Frequent drinking not only makes you feel "full", but drinking water can increase your metabolism up to 22%!
4. FOLLOW THE 5 MEALS A DAY PATTERN
Dietitians are encouraging people to shed the 3-meal a day norm and to instead adopt 5-6 meals a day. A small meal every 2-3 hours increases the metabolism as the body constantly uses up energy to digest food and distribute it properly. As long as you commit to eating ONLY healthy food with controlled portions that fits your body needs, then you're good to go.
Don't wait until you feel hungry to eat. Eating 5 scheduled meals will also help you avoid snacking on junk food. Additionally, it's healthier to opt for complex carbohydrates when thinking of a 5-6 meal plan because it provides more energy, is low in fat, and fill you with loads of nutrients!
5. LOVE YOUR BODY
Avoid alcohol, junk food, smoking and all other bad vices. Alcohol is especially bad for your metabolism as it has slows it down 10-15% if you're a frequent drinker. Junk food has too many bad fats, unnecessary MSG, and high sodium content. We all know all that is not a good thing, especially when talking about metabolism rates. Stay away from smoking as it has chemicals in it that make you feel "full" and thus makes you skip meals because you don't feel hungry. Not to mention that it's a leading cause of death.
Be good to your body and take care of it properly. Some additional tips are: get more sleep, incorporate healthy habits like swapping soda for green tea or other alternatives, and eat more spicy food to increase both the body's temperature and the metabolic rate.
July 23, 2009 | Category:
Health
|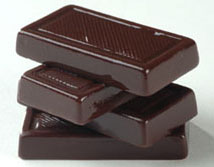 How would you react if you were told that one of the world's favorite desserts can lower your blood pressure and cholesterol levels? You'd probably be half ecstatic and half skeptical, right? Here's the real deal with Dark Chocolate:
Dark chocolate has been studied for years and the results are the same: it improves blood flow, lowers LDL levels, contains serotonin and theobromine, which are anti-depressants and stimulants respectively, and it has an exorbitant amount of antioxidants as well.
Studies from both the National Institute for Food and Nutrition Research in Italy and the University of Cologne Medical College in Germany have reported high levels of Epicatechin in dark chocolate. Epicatechin improves the circulation of blood and provides extra protection against cardiac problems – something we could all use. Just imagine, eating your way into a better heart! How could it get any better than that?
Well, it just could. Another significant finding in the study of dark chocolate revealed that it has a large amount of antioxidants. The antioxidants found in chocolate are Flavonoids and Cathechins, both helping to heighten the body's resistance to free radicals, which protect us from the effects of cardiovascular disease, aging, and other bodily ailments. These antioxidants contained in dark chocolate are even higher than those of strawberries and are also almost the same found in black tea. Flavonoids can also produce nitric oxide, which helps balance out chemicals and hormones and help in lowering blood pressure as well.
I know its hard not to be skeptical. However, additional studies of dark chocolate have shown that with just 100-150 grams of polyphenol-rich dark chocolate each day, people can lower their blood pressure significantly – some lowering it 11%.
With all this being said, it doesn't mean you can go on a dark chocolate-eating spree. Remember the old adage, too much of a good thing is bad. Binging on dark chocolate can disrupt your diet and cause weight gain. Despite all the good it can bring to the health-conscious, it is still a huge chunk of calories! One small serving, give or take 100g is more than 500 calories. But if you already ingest 500 calories of junk a day, eating potato chips and your favorite snack bars, you're better off munching on dark chocolate!
Recommended Chocolate:
For those of you looking for quality dark chocolate, visit Romanicos chocolate.